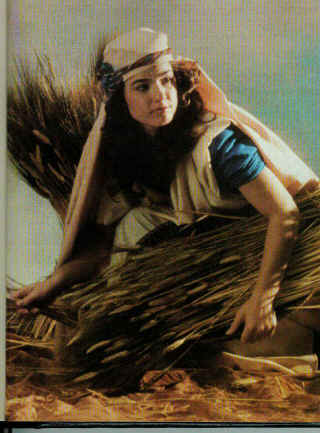 One of the things I love most about the Anglican tradition is the liturgy of the word. It's the part of the service where, every service, scripture is read. If there was one thing in my tradition that I think every church should have, this would be it. An interesting feature of this practice is that, as different pieces of scripture are read together, connections between verses get made that might not otherwise have been.
Last night, I attended evening Eucharist, and just such a connection was made. I'm going to quote the text whole here, in the spirit of the liturgy.
Now Boaz said to her at mealtime, "Come here, and eat of the bread, and dip your piece of bread in the vinegar." So she sat beside the reapers, and he passed parched grain to her; and she ate and was satisfied, and kept some back. And when she rose up to glean, Boaz commanded his young men, saying, "Let her glean even among the sheaves, and do not reproach her. Also let grain from the bundles fall purposely for her; leave it that she may glean, and do not rebuke her."
So she gleaned in the field until evening, and beat out what she had gleaned, and it was about an ephah of barley. Then she took it up and went into the city, and her mother-in-law saw what she had gleaned. So she brought out and gave to her what she had kept back after she had been satisfied. And her mother-in-law said to her, "Where have you gleaned today? And where did you work? Blessed be the one who took notice of you." So she told her mother-in-law with whom she had worked, and said, "The man's name with whom I worked today is Boaz." Then Naomi said to her daughter-in-law, "Blessed be he of the LORD, who has not forsaken His kindness to the living and the dead!" And Naomi said to her, "This man is a relation of ours, one of our close relatives." Ruth the Moabitess said, "He also said to me, 'You shall stay close by my young men until they have finished all my harvest.'" And Naomi said to Ruth her daughter-in-law, "It is good, my daughter, that you go out with his young women, and that people do not meet you in any other field." So she stayed close by the young women of Boaz, to glean until the end of barley harvest and wheat harvest; and she dwelt with her mother-in-law. (Ruth 2:14-23)
To give some context, Ruth was the daughter-in-law of Naomi, and a foreigner. Naomi had been living among Ruth's people when her husband, and then her sons, had died. Thus, they returned to Israel as widows, and one of them a foreigner - just about the worst situation they could be in. Now, the Old Testament law required that the edges of the fields be left so that foreigners, widows and orphans could glean from them. It also required that if members of the community were forced to sell property and thereby become impoverished, their property should be "redeemed," that is, bought back, by a close relative. This verse was read, and then the following New Testament Epistle reading.
Do we begin again to commend ourselves? Or do we need, as some others, epistles of commendation to you or letters of commendation from you? You are our epistle written in our hearts, known and read by all men; clearly you are an epistle of Christ, ministered by us, written not with ink but by the Spirit of the living God, not on tablets of stone but on tablets of flesh, that is, of the heart.
And we have such trust through Christ toward God. Not that we are sufficient of ourselves to think of anything as being from ourselves, but our sufficiency is from God, who also made us sufficient as ministers of the new covenant, not of the letter but of the Spirit; for the letter kills, but the Spirit gives life.

But if the ministry of death, written and engraved on stones, was glorious, so that the children of Israel could not look steadily at the face of Moses because of the glory of his countenance, which glory was passing away, how will the ministry of the Spirit not be more glorious? For if the ministry of condemnation had glory, the ministry of righteousness exceeds much more in glory. For even what was made glorious had no glory in this respect, because of the glory that excels. For if what is passing away was glorious, what remains is much more glorious.
Therefore, since we have such hope, we use great boldness of speech— unlike Moses, who put a veil over his face so that the children of Israel could not look steadily at the end of what was passing away. But their minds were blinded. For until this day the same veil remains unlifted in the reading of the Old Testament, because the veil is taken away in Christ. But even to this day, when Moses is read, a veil lies on their heart. Nevertheless when one turns to the Lord, the veil is taken away. Now the Lord is the Spirit; and where the Spirit of the Lord is, there is liberty. But we all, with unveiled face, beholding as in a mirror the glory of the Lord, are being transformed into the same image from glory to glory, just as by the Spirit of the Lord. (2 Corinthians 3:1-18)
Typical of Paul, these are some packed, one might even say frantic, verses. There's a lot of good stuff in there. I want to draw attention to a particular thing said in this section. Paul says " the letter kills, but the Spirit gives life." This is a common theme in Paul - the Spirit is life giving, but the letter (or the law) brings death. I've always found this puzzling. It seems intuitive to me that the law tells us what is good, and how is doing what is good destructive? Especially when the spirit also tells us to do good, oftentimes good over and above what is demanded by "law"?
Then I read these two verses together, and suddenly it clicked. See, there's another detail to the Ruth story. Boaz wasn't Ruth's closest relative - there was another. The closest relative should have been the one to redeem Ruth, but he didn't, instead Boaz had to. Boaz did the right thing, according to the law, and by the very nature of the law, the one who didn't do his duty was brought under condemnation. The law separates, divides, creates a divide, becomes a veil. In contrast, the Spirit opens up. When we act according to the Spirit, we do what is good, but that goodness flows out of ourselves and into Others. Our right acting does not harm, it edifies.
I don't pretend that this totally encompasses what Paul meant. I doubt such a thing could rightly be encompassed, but I think it is an interesting angle with which to approach it.